May 1, 2017
Author: Mychal Wynn (Northeastern '79)
Editor: Mychal-David Wynn (Amherst College '13)
Why the Cohort is So Important
The photograph used in this month's blog posting reflects the annual high school graduation celebration worship service, hosted during May for the past ten years at the Turner Chapel AME Church in Marietta, Georgia. This year, ten of the graduates also participated in our 2017 TCC College Planning Cohort, many of whom will be attending college on full scholarships.
This time last year, we opened the May newsletter and blog posting with the illustration below, taken from the report, "Four-Year Myth: Making College More Affordable" (Complete College America, 2014). The report notes that only 5 out of every 100 community college students receive their associate's degree on-time and that at the country's top 4-year public universities, only 36 out of every 100 students receive their bachelor's degree on time. 4-year graduation rates at the institutions to which current cohort students were offered admission range from 90% at Princeton University and Davidson College to 12.7% at Morris College and 15% at South Carolina State University. 4-year graduation rates at state flagship universities range from 80% at the University of North Carolina-Chapel Hill to 38% at the University of Alabama-Tuscaloosa.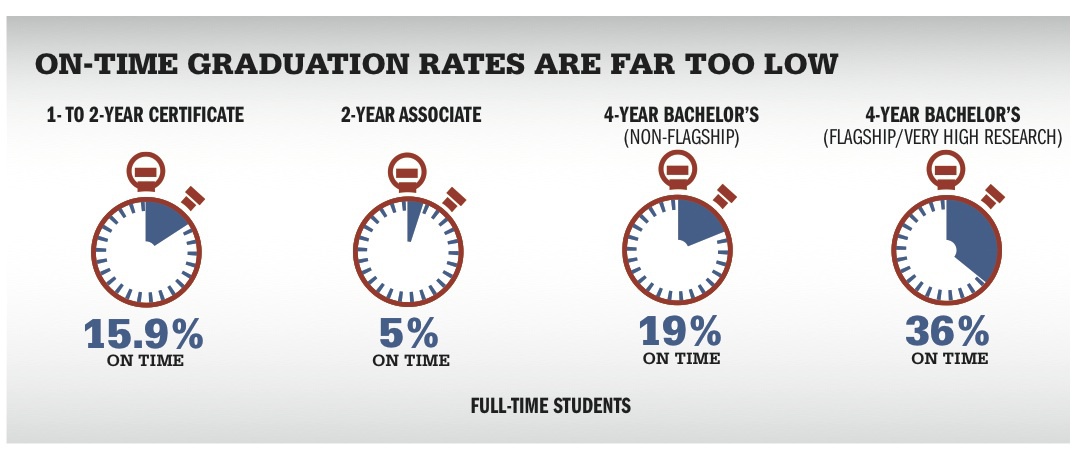 While any student who does not have a clear college-bound plan is at risk of enrolling into the wrong institution, the article by Catherine Gewertz, "Income-Based Gaps in College Attainment Have Worsened Since 1970, Report Finds" notes that students from lower income families make up only 23 percent college graduates. Part of the reason for this huge gap is that students from lower income backgrounds are more likely to choose colleges with lower graduation rates.
"One reason for the schism in degree attainment, according to the report, is the types of institutions students attend. Students from the bottom two income quartiles more often enroll in colleges with lower graduation rates than do those from wealthier families, the report says." (Education Week, 2016)
Developing an elementary-through-high school college-bound plan that will qualify students to be accepted into the 'right' colleges can significantly increase the chances of a student receiving his or her degree and avoiding thousands of dollars in student loan debt.
Today is Decision Day
April was the final month of the cohort experience for high school seniors. With the exception of colleges operating on 'Rolling Admissions,' today is the enrollment decision deadline for most 4-year U.S. colleges and universities. High school seniors may pause for a moment of self-reflective examination of what they did, or wish they had done, in determining the range of college and scholarship options and opportunities from which they may choose. However, for today's high school juniors (and their parents), there are important lessons to be learned from the experiences of current high school seniors.
Resistance to developing a 'realistic college list.' Popular Facebook postings, and sensationalized news headlines, celebrate high school seniors who received offer letters from 25 or more colleges. However, while such headlines frequently state that students 'received hundreds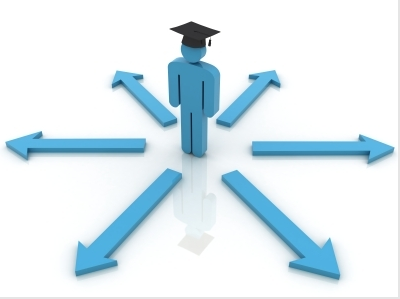 of thousands of dollars in scholarships,' the reality is that students received 'scholarship offers,' none of which may have offered a full scholarship to any one college and none of the 'hundreds of thousands of dollars' in institutional scholarships can be used at any college other than the one college offering the scholarship. The unfortunate reality is that many seniors focused far too much attention on 'getting in' and far too little attention on 'getting it paid for,' a harsh reality confronting many students. What really is a sensational news story, is that one of our seniors applied to 12 schools, was offered admission to all 12 schools, was offered scholarships to all 12 schools, but most importantly, was offered full scholarships to 9 of the schools. Thus, 9 of the schools were the 'right' schools.
Her final decision came down to 2 schools that offered full scholarships and 1 school that had a great program, but whose scholarship money left a financial aid gap and the prospect of her accepting student loans or burdening her mother with loan debt. The right choice was accepting a full scholarship (which included free books and assistance with transportation expenses), offered by one of the country's top liberal arts colleges. Students who failed to make the right college choice, will be assuming a huge amount of student loan debt, which they and their parents, will be paying for their college choice for many years into the future, whether they receive a degree or not.
Receiving a 'Wake-up Call' in the final days. Perhaps their grades and test scores did not reach into scholarship ranges; perhaps their top choice college did not offer the type of financial aid awards needed to avoid thousands of dollars in student loan debt; or, perhaps their gifts and talents were enough to gain an offer of admission, but not enough to receive a substantial scholarship offer—consequently, many students have made thoughtful decisions to begin their college experience in community college, with transfer plans into a 4-year institution. Such students have chosen to avoid assuming thousands of dollars in student loans, while developing comprehensive plans to attend community college, earn top grades, and qualify for transfer scholarships when they continue on into 4-year institutions to complete their undergraduate education. Other students will begin at lower-cost public institutions with similar plans of attaining top grades and earning their way into transferring, with scholarships in hand, to one of their top choice colleges.
Outcomes reflect work ethic. The activities assigned to cohort students over the course of the past year were designed to expand college admission and scholarship opportunities by putting as many pieces of the college planning puzzle into place as possible—taking the right classes, earning the right grades, attaining the right test scores, researching the right colleges, identifying the right scholarships, writing the right essays, and developing the right 'hook.' Additional pieces required developing high quality résumés, supported by high quality recommendation letters, undergirded by high quality teacher/counselor evaluations, and promoted through high quality email signatures, resulting in a distinguishable high quality 'brand.'
As a result of their work, throughout high school, and through the college planning process, many students have been offered a huge amount of institutional grants and scholarships to reduce, or eliminate, their reliance on student loan debt. In our June newsletter and blog posting, we will share the complete list of colleges to which cohort students were offered admission and the staggering amount of scholarship money awarded to our 2017 seniors as we wish them well for the next phase of their journey.
What Should You Have Learned From the April Activities?
The April Blog posting outlined important milestones that you should have attained:
Milestone #1: An Academic Résumé
Milestone #2: Know Your Brand
Milestone #3: Email Signature
Milestone #4: Align Your GPA, Classes, and Scores with Your College Aspirations
Milestone #5: Know Who You Are
As a result of the January through April activities, you should have engaged in meaningful self-reflection. You should have expanded your awareness of how closely your body of work (i.e., grades, test scores, class rank, community service, leadership, and extracurricular activities) is aligned with your college/career aspirations. For example, are you currently a competitive candidate for being offered admission into the institutions on your preliminary college list? Are you a competitive candidate for merit-based scholarships? If you are from a lower income family, are you currently earning the grades and test scores needed to be offered admission into a selective school (e.g., Princeton, Duke, Amherst) that will provide you with a 'no-loans' financial aid package? If you have gifts and talents, have you developed them to scholarship potential and identified the colleges offering scholarships for your meritorious areas of achievement?
The 'Common Data Set' activity provided critically important insight into the type of students the colleges on your preliminary college list admit and the type of attributes each institution is seeking in structuring its freshman class. The 'Teacher/Counselor Evaluations' activity may have resulted in awkward conversations pertaining to how your counselor and current teachers evaluate you as a student. However, better now than later. Whatever, their assessment, knowing how you compare to others in your class, how your course schedule compares to others in your school, and whether or not you are distinguishing yourself through clubs, activities, and leadership in your community, will help you to predict your chances of making the first cut, i.e., 'How You Compare to Students in Your School and Community.' Depending on where you apply to college, you will be evaluated first, against students in your school and community, then against students in your school district, state, and country of national origin. Within each of these pools of students, you will be further evaluated based on your race, gender, socioeconomic backgrounds, and gifts and talents.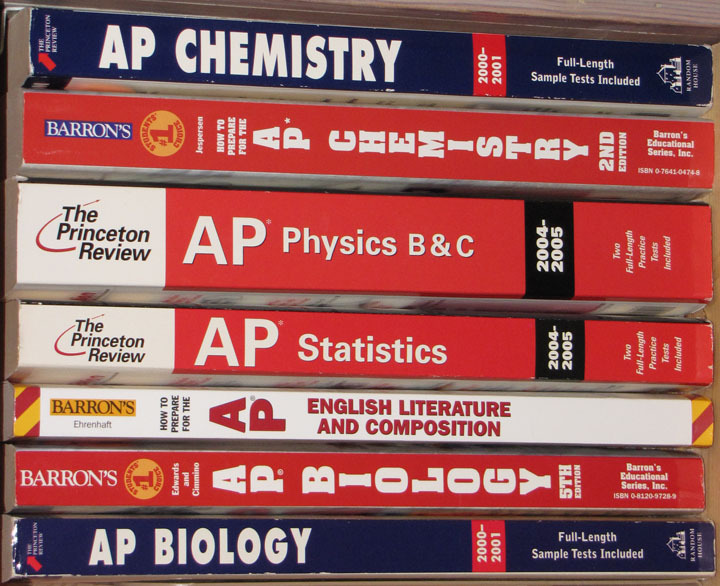 The 'Planning Your Course Schedule' activity provided a context for seeking guidance from your parents, teachers, and counselor, whether developing your course schedule for your final year of high school, or outlining the 7-year middle-through-high school classes and grades needed to position yourself for being offered admission into top colleges and being offered generous need- or merit-based financial aid awards. The rigor of your course schedule, type of classes you chose to take, and grades earned will be carefully scrutinized by college admissions officers and scholarship providers. Their review will either identify you as a competitive candidate for being offered admission or a scholarship, or move your application to the bottom of the stack, behind those of thousands of other more qualified candidates.
The final April activity, 'Commencement and Other Recognition,' is a forward thinking activity, i.e., "How do I wish to be recognized at my high school graduation?" Identifying, and planning to qualify for recognition at your high school commencement exercises will offer memorable moments for your parents. However, having these areas of recognition reflected on your résumé and college applications will result in thousands, if not hundreds of thousands of dollars in scholarship and financial aid offers.
May Activities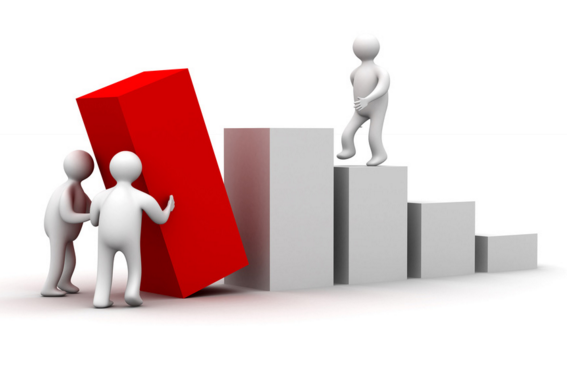 The four assigned activities for May are designed to further focus your college and scholarship efforts and more clearly define your college list. Based on your projected EFC, as a result of having completed the 'FAFSA—The Key to Unlocking Financial Aid' activity, you must now focus your college research on institutions most closely aligned with your body of work (i.e., grades, test scores, gifts and talents) and your family's financial circumstances. Students with high EFCs must focus their efforts on colleges and universities with merit-based scholarship opportunities, while students who qualify for the U.S. Pell Grant may expand their college research to institutions offering both need- and merit-based financial aid policies.
When constructing your college list, a sound approach is to identify colleges where your current ACT scores are within 2 points, and SAT scores within 100 points, of the median scores of admitted students. This will assure that you develop a 'matched' set of colleges. If you have not taken either the SAT or ACT, or currently have low test scores, you must thoughtfully revisit the previously assigned 'Test Optional Colleges' activity. To expand your college and scholarship opportunities, you must make every effort to achieve your target test scores no later than the June exam.
Perhaps the greatest lesson to be learned from the experiences of current seniors, is that your efforts will largely determine your outcomes. Completing the once weekly cohort activities is not something that must be done, "in addition to high school," but must be done as a part of your high school experience. For example, this time last year, many cohort students deemed the 'Diversity Weekends' activity to be a waste of time if their top choice colleges did not offer diversity weekends. So instead of expanding their college list, they chose to be dismissive of the activity. One student made a very different decision, choosing instead to embrace the activity. As a result of her efforts in developing high quality diversity weekend applications and writing high quality essays, she was invited to diversity weekends at Amherst, Williams, Swarthmore, and Washington and Lee—all schools to which she subsequently applied for admission. Having developed a relationship with each of these schools, through their diversity weekend opportunities, the student was offered admission to all four schools, AND, offered full scholarships to all four schools. The students' only regret is that she did not apply to even more diversity weekend opportunities, as many of the students whom she met at multiple diversity weekends were planning to attend a dozen or more such opportunities.
As previously stated, it is not about how many colleges to which you will be offered admission, but whether or not you will be offered admission by the 'right' colleges.
Monthly Meetings
Atlanta-area
We apologize for technical difficulties experienced in our April conference call. We will host our next conference call on Thursday, May 4, 2017 from 7:00 pm – 8:00 pm. The phone number is 1-712-775-7031; Access Code is 761141.
Crossroads for Teens
We had a great April meeting with students and parents working from their laptop computers. We have nominated several students Discover Swarthmore and are excited about the number of students engaged in thoughtful research of liberal arts colleges and diversity weekend opportunities. Unfortunately, we will not be able to host a face-to-face meeting during May, but invite all students and parents to join us on the conference call.
Florence County School District 3
April was our final meeting with high school seniors and we are awaiting the dates for the summer boot camps for rising Middle College students, high school juniors, and high school seniors. 'The Journey Continues,' a celebration and awards presentation is planned for Saturday, May 13, 2017 at Lake City High School.
Guilford County Schools First Generation
We had a great April meeting. Our next meeting at the Guilford Technical Community College-Greensboro Campus will be on Saturday, May 20, 2017 from 9:00 am – 1:00 pm.
Turner Chapel AME Church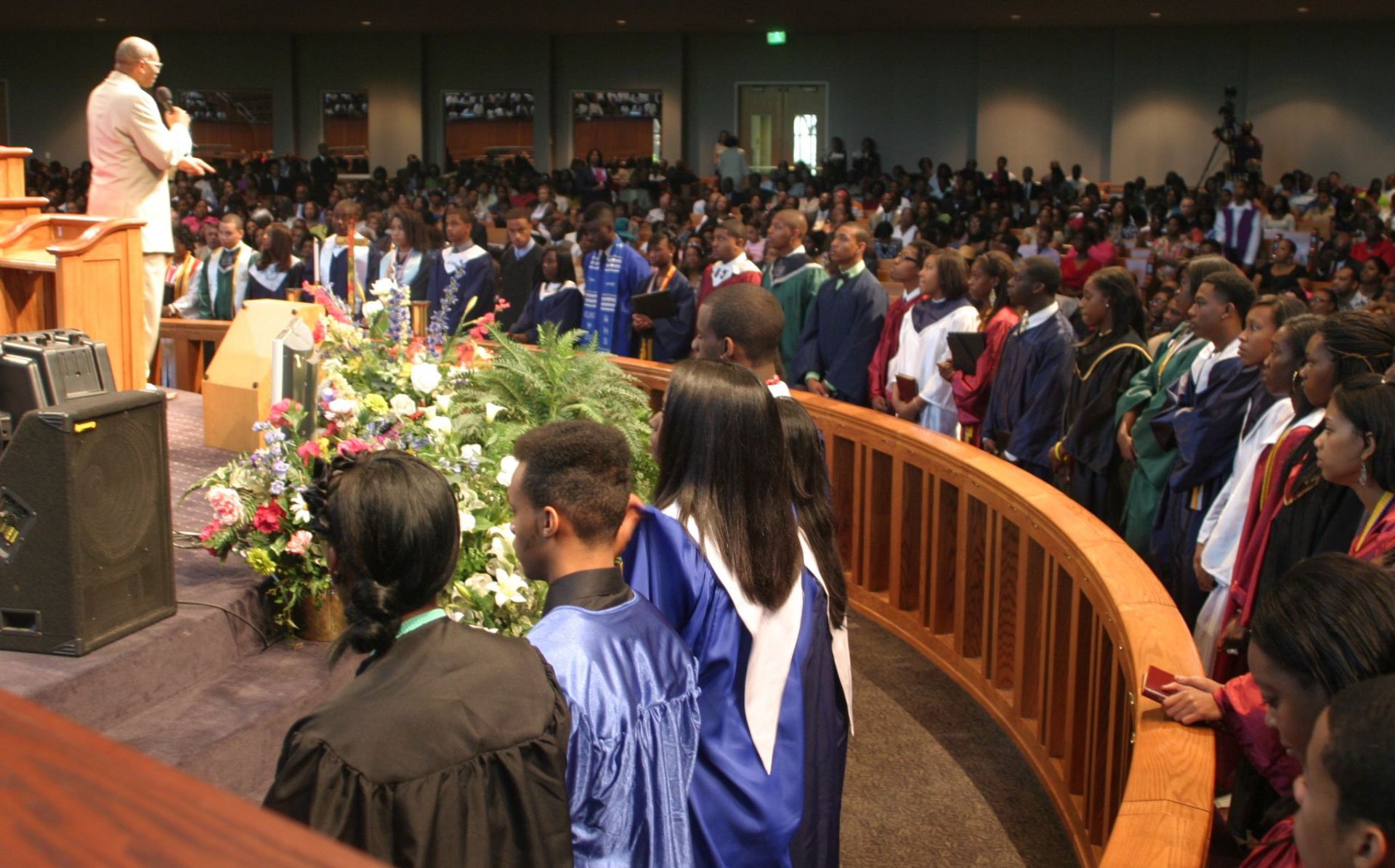 On Sunday, May 28, 2017 we will host our 10th Annual Turner Chapel AME Church High School Graduation Celebration Worship Service (Marietta, GA), at which time we will be recognizing our graduating seniors, announcing their final college choices, and celebrating their journey with their families, coaches, teachers, counselors, and neighbors, who are all invited to share in the worship experience and message from Youth Pastor, Rev. Don Ezell. The worship service will begin at 9:30 am. Please join us as we celebrate the completion of one journey and beginning of another for both students and families. It is an awesome, inspiring, and spirit-filled worship service unlike anything that you have ever experienced.
United Ghana Christian Church
The monthly narratives being submitted by students in the United Ghana Christian Church Cohort continue to show great progress as a result of the hard work of students and support of mentors working together on the first Sunday of each month.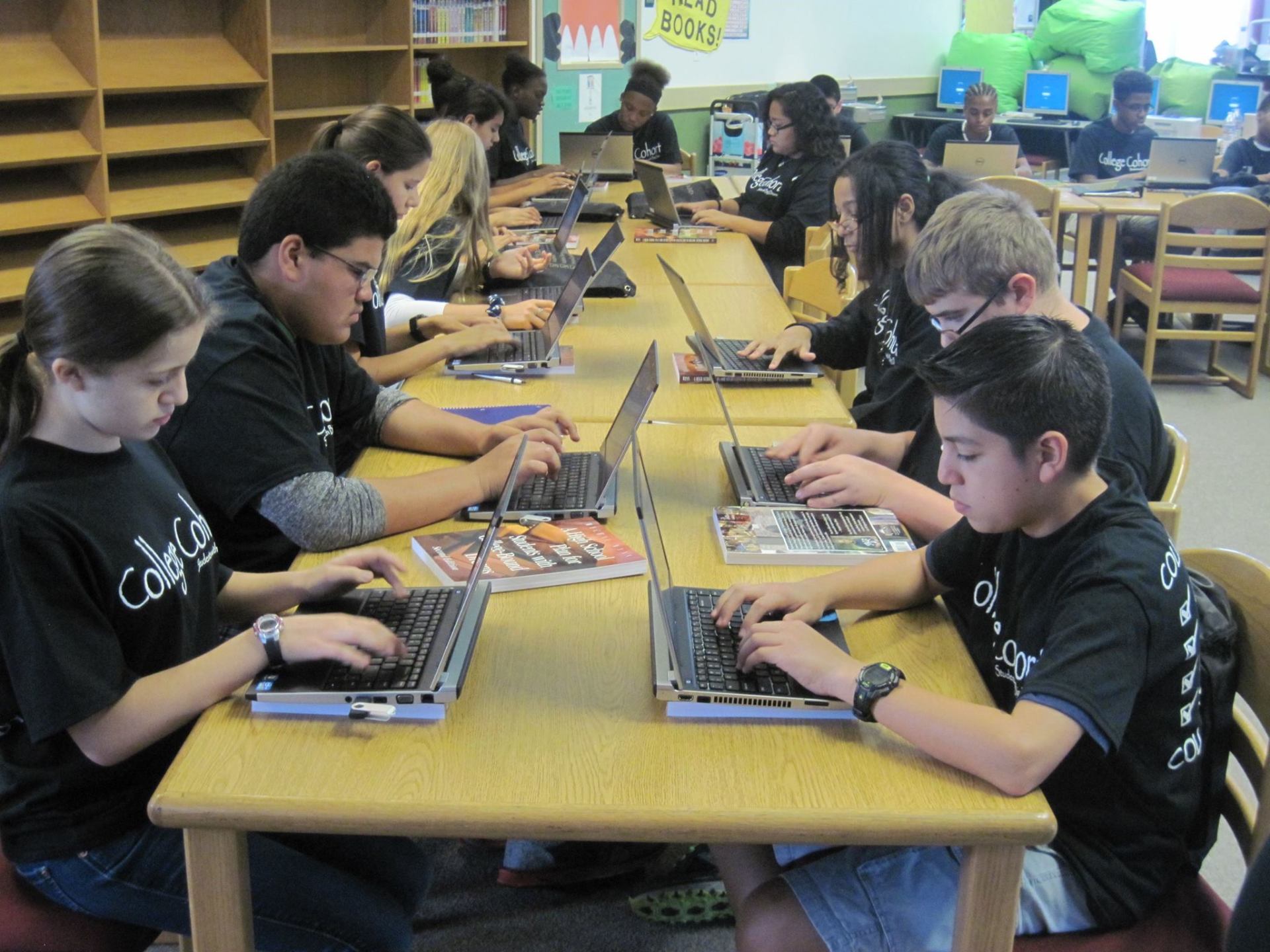 College Planning Boot Camps
This summer, we will be hosting a full schedule of College Planning Boot Camps. Our first Boot Camp will be held for rising 9th graders who will be attending the Judson ISD (TX) Early College Academy. The 3-day session will be held at Metzger Middle School from May 17 – 19, 2017, from 8:00 am – 2:30 pm. While the dates have not been finalized, Boot Camps are also planned for Florence County School District Three (SC) rising 9th, 10th, and 12th graders; and Austin ISD (TX) rising 9th graders in the Middle College Program and rising high school seniors.