December 1, 2017
Author: Mychal Wynn (Northeastern '79)
Editor: Mychal-David Wynn (Amherst College '13)
An important shift for high school seniors from college to scholarship research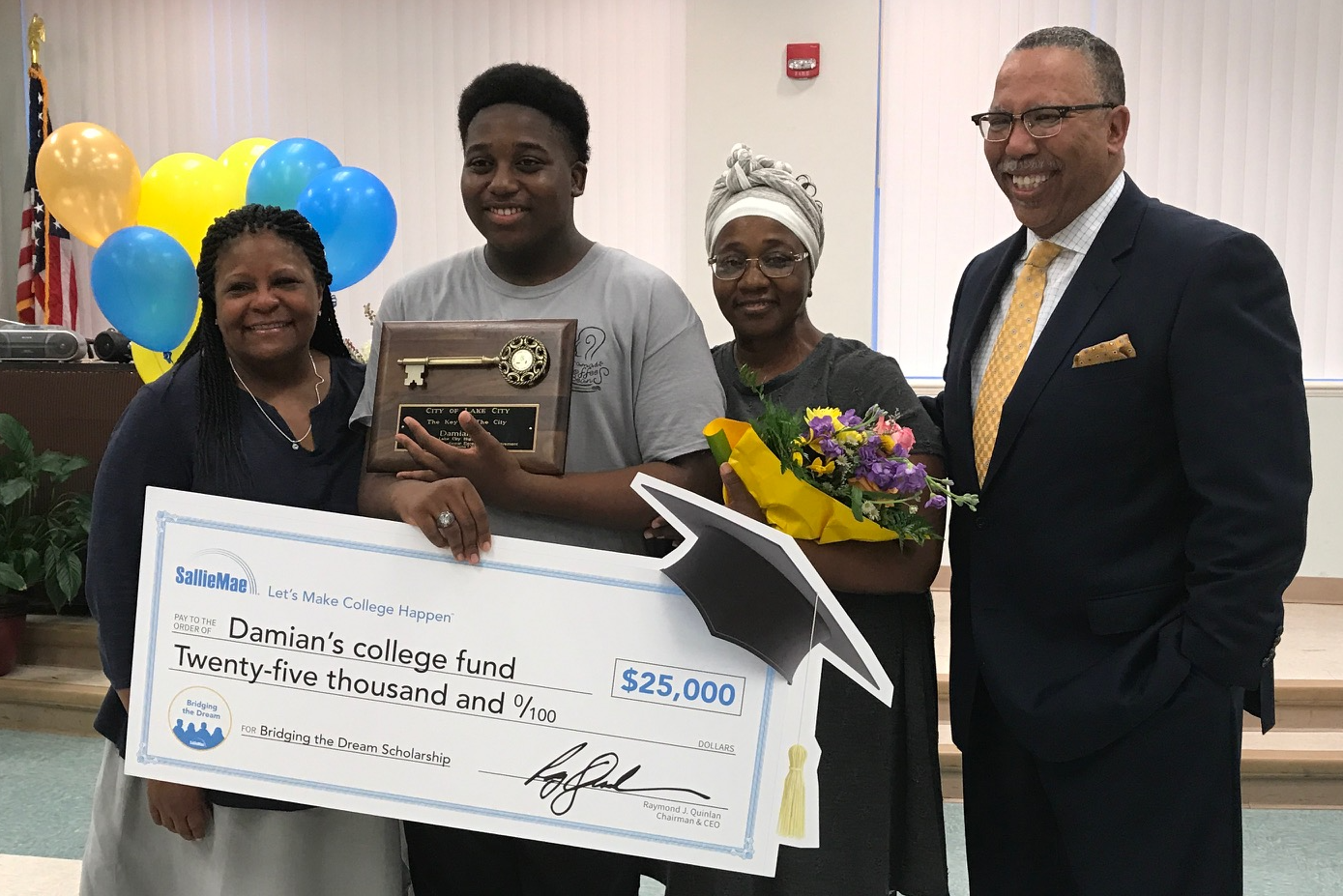 December represents an important transition for our College Planning Cohort seniors from college to scholarship research. As our College Planning Cohort high school seniors have finalized their college research, completed 'Net Price Calculations,' submitted their FAFSA, and identified institutional scholarship opportunities at each of their colleges, students now have estimates of their financial aid gaps. The primary focus from now until college enrollment decisions are finalized on May 1, is to identify and qualify for enough private scholarship money to close the financial aid gap.
"Show Me the Money: A Comprehensive Guide to Scholarships, Financial Aid, and Making the Right College Choice," (also available as a digital download), is an invaluable resource to assist in identifying, and submitting high quality scholarship application packages. However, for some cohort students, like Damian L., from Lake City High School in Lake City, South Carolina, a high quality nomination can pave the way to an extraordinary opportunity.
Damian's blessing was one of collaboration, prayer, and preparation. Florence County School District 3 Superintendent, Laura Hickson, forwarded an email about the SallieMae "Bridging the Dream Scholarship" to the Director of College and Career Readiness, Yvonne Scott. With the application deadline just days away, Ms. Scott asked if my wife would be able to make the nomination for Damian. Having worked with Damian since he was a high school junior, my wife and I knew enough about Damian's story, leadership, and achievements to write and submit the nomination. After receiving several hundred nominations for the 5 scholarships, we were contacted by SallieMae representatives with the announcement that Damian was a semifinalist. During a lengthy conference call with SallieMae representatives regarding our nomination, we were able to refer to Damian's Profile and Résumé to provide the SallieMae representatives with additional insight into Damian's leadership, community service, and achievements. A few weeks later, Damian was selected as a finalist, and on Tuesday, November 7, 2017, Damian received the news that he was one of the five recipients for the $25,000 scholarship. Our goal is to assist Damian in being offered admission to his first-choice college, George Washington University, and to avoid student loan debt as Rapper, Dee-1, talks about in his "Sallie Mae Back," video.
Current or former college students may apply for the SallieMae $10,000 Mission Finish Contest through December 15, 2017 by posting their comments about having paid off, or looking forward to paying off their SallieMae student loans.
Congratulations to our Turner Chapel AME Church Cohort student, Amari TW, for receiving an offer of admission from his top college choice, Middle Tennessee State University. The joy on Amari's face as he opened his acceptance letter is being felt by many of our cohort students who have already received many such letters.
A special congratulations to our Guilford County First Generation College Planning Cohort student, Kristen S., who not only received an offer of admission to Tuskegee University, but was awarded the Distinguished Presidential Scholarship for tuition, room, board, fees, and a $800 book stipend (valued at over $166,000). Kristen is also a semifinalist for the Coca Cola Scholars Scholarship.
However, even as the success stories roll in, an anxiety filled senior-year continues for our students, many of whom have application deadlines today to be considered for institutional scholarships at such schools as Davidson, Wake Forest, and Boston University. Writing high quality college admissions essays takes times and many revisions, so students with January 1 application deadlines must use their time wisely over the holiday break from school to write, review, and write again.
December Activities (Seniors)
Our team of volunteers is busily assisting high school seniors with finalizing college applications, writing essays, and positioning themselves for the best college and scholarship opportunities. My wife and I serve as advisors and recommenders for The Common Application and have been writing letters of recommendation, nominating students for scholarship programs, and communicating with college admissions officers to ensure that our first generation students are being exposed to top colleges and institutional scholarship opportunities.
There are no activities assigned for high school seniors as we wish for them to continue finalizing their self-presentations:
A High Quality one-page Academic Résumés
Special-focus Résumés for Athletics or the Creative Arts
Art Portfolios or Performance Videos
A High Quality College Admission Essay Making a Strong Connection to Their Body of Work
High Quality Letters of Recommendation Reinforcing Their 'Hook'
Making Strong Connections to Their Top-choice Schools
As seniors transition into scholarship research, it is anticipated that students will revisit each of the scholarship activities throughout the balance of their senior year of high school. As students, "Get Organized," engage in "Scholarship Research," focus their research on a specific "Intangibles of Scholarship Research," and create a "Winning Scholarship Package," they will repeat the process for each area of their scholarship focus. Engaging in scholarship research is an exhaustive process with each Internet search yielding millions of results. The scholarship research process will require writing and adapting essays to fit a broad range of writing prompts, from what a student would most desire to change in the world to the most important issues of social justice facing society today.
December Activities (Grades 9 – 11)
November's self-reflective activities engaged students in assessing their level of coursework, i.e., AP, Dual Enrollment, or honors-level; relationships with teachers, counselors, and coaches; and began the process of conceptualizing students' coursework, leadership, community service, and activity involvement throughout the context of developing comprehensive 9 – 12 college-bound plans. The December activities are designed to engage students in self-assessment and summer planning within the context of students' college and career aspirations:
Activity 1: Self-Assessment
Activity 2: A Context for the Conversation
Activity 3: Careers and College Majors
Activity 4: Summer Planning
How students spends their summers during each year of high school can have profound impact on expanding the college and scholarship opportunities. Our sons spent their high school summers becoming better track and field athletes, expanding their gifts and talents in music and art, and experienced leadership programs where they developed skills which they brought back into the high school clubs, organizations, and athletic teams. Some of our cohort students have attending the Yale Young Global Scholars Program, Junior State of America, Disney Dreamer's Academy, Space Camp, the Centennial Aviation Academy, and the Summer Institute for the Gifted.
Program Updates
We are pleased with the attendance and conversations at our November meeting with families participating in the 'CPC: 9 – 11 Grade Cohort.' Our December meeting will review the assigned activities and engage students and parents in a large group discussion. Beginning in January, participating students will be asked to bring their laptop computers to engage in a working session at which time, students will be guided through some of the assigned activities. Mychal-David Wynn (Amherst College '13 BA English) is now a co-instructor in the CPC: 9 – 11 Grade and WVICC Google Classrooms.
Saturday, December 2, 2017: The FCSD3 College Planning Cohort will meet at the Florence County School District 3 Boardroom (located behind the administrative offices) from 9:00 am – 3:00 pm.
Sunday, December 3, 10, and 17, 2017: The United Ghana Christian Church Cohort will meet during the worship service.
Saturday, December 9, 2017: The Guilford County Schools First Generation Cohort (high school juniors and seniors) will meet at Guilford Technical Community College (GTCC) Greensboro Campus, 3505 East Wendover Avenue, Greensboro, NC. Room 304-B (3rd Floor), from 9:00 am – 1:00 pm.
Sunday, December 10, 2017: The Next Episode Bible Study and College Planning Session (high school juniors and seniors) will meet in the Boardroom at the Turner Chapel AME Church, located at 492 North Marietta Parkway • Marietta, GA 30060, from 9:30 am to 11:45 am.
Sunday, December 10, 2017: The CPC: 9 – 11 Grade Cohort and TCC Senior Cohort will meet immediately following worship service in Room 187 (9 – 11) and Room 182 (Seniors) at the Turner Chapel AME Church, located at 492 North Marietta Parkway • Marietta, GA 30060, from Noon to 1:30 pm.
Sunday, December 10, 2017: The Crossroads for Teens Cohort (middle through high school students) will meet at Johnson Ferry Baptist Church, located at 955 Johnson Ferry Road • Marietta, GA 30068, from 3:00 to 4:30 pm.
Thursday, December 14, 2017: "The Application Process," College Planning Workshop sponsored by the Guilford County Schools Parent Academy: Believe it or not, applying to college can be stress-free (and even fun)! Find out for yourself on Thursday, December 14th, when our College Planning Workshop Series returns to cover the entire college application process. The session, which will be led by college planning expert, Mychal Wynn, who will provide you with a step-by-step blueprint for successfully navigating the entire process. Deep River Event Center, 606 Millwood School Rd, Greensboro, NC 27409, from 6:00PM – 7:15PM.
Saturday, December 16, 2017: 8th Annual Turner Chapel AME Church Education Ministry College Panel Discussion, hosted by the Turner Chapel AME Church Education Ministry, will be presented in the Turner Chapel AME Church Chapel, located at 492 North Marietta Parkway • Marietta, GA 30060, from 11:00 am to Noon. Graduate and undergraduate student panelist will represent a broad range of liberal arts colleges and research institutions, such as the University of Pittsburg, University of Georgia, Dillard, Middle Tennessee State, Tennessee State, UT-Martin, Morehouse, Hampton, Xavier, Emmanuel, and Howard. Topics will cover the preparation, transition, financial aid, study abroad, internship and research opportunities, challenges to be overcome, and obstacles to be avoided. Panelists represent student-athletes and a broad range of academic disciplines.
December 31, 2017 will be the last day of free download of our College Planning Activities. Beginning on January 1, 2018, all activities will be assigned through our College Planning Cohort Google Classrooms.
Click her to download College Discussion Panel Flyer…
Registration for the second semester College Planning Cohort is now open, click here to join…
Have a Question?
Contact us at:
Phone: (678) 395-5825
Email: cpc@collegegplanningcohort.com
Website: www.collegeplanningcohort.com
Mail:
College Planning Cohort
C/O Foundation for Ensuring Access and Equity
P.O. Box 70457
Marietta, GA 30007